2022.08.16
Son Heung-min playing with the world's best, domestic technology is al…
AIMBROAD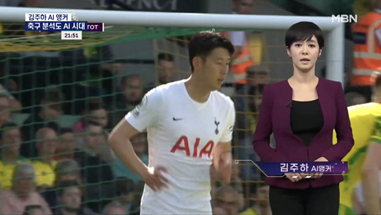 [ Anchor ]
Football experts debated the best player in the Premier League last season, and Football AI rated Son Heung-min as the best. A domestic company developed Football AI, and its innovative technology is attracting global attention. The AI anchor reports.
[ Reporter ]
This is Kim JooHa AI anchor. Football AI "watches" Son Heung-min's broadcast and analyzes various movements, passes, and shots in real-time through 32 program codes.
In this way, Football AI immediately displays various data on the screen, such as scoring patterns and routes.
It's an innovative automation technology that big companies in the same filed cannot even dream of having because they manually produce data one by one, with dozens of people dedicated to each game.
[ Interview: Soo Jin Jang / AIMBROAD CEO ]
"Football AI generates about 1,000 data points per game. We can deliver those data to the smartphone in one second."
In this way, Football AI also rates players in real-time. It ranked Tottenham's Son Heung-min as No. 1 (8.30) in the Premier League overall ratings last season (M. Salah 8.17 / K. De Bruyne 8.12).
Football AI also says Son Heung-min is the best.
Football AI, a domestic company's innovative technology, provides various data to fans through a smartphone app.
It can also be expanded to various devices such as AR and VR for virtual and augmented reality.
Football AI, which international media such as Bloomberg aired last month, is about to open the door of La Liga in Spain.
With Son Heung-min playing with the world's best, domestic technology is also heading for the best in the world. This was Kim JooHa AI anchor.
https://m.mbn.co.kr/tv/552/2636/1301378