2021.07.26
FOOTBALL AI Has Been Predicting Tottenham's Heung-Min Son's Exceptiona…
AIMBROAD
Is FOOTBALL AI tracking Son Heung-min's skills and projected salary changes every second?
On July 23 (UK time), the Tottenham club announced a four-year contract renewal with Heung-Min Son.
The Tottenham offered him £200,000 a week. It means an annual salary of £10.4 million and £41.6 million over four years.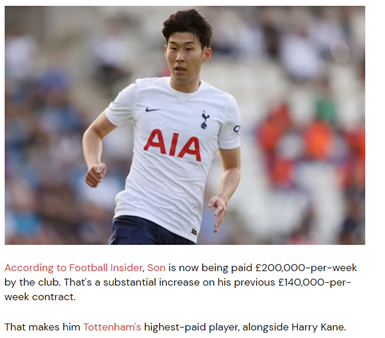 As soon as the 38th round of the game was over last month, AIMBROAD, Inc., a South Korean company, digitally released the salary prediction rankings
and related data of all 760 EPL players based on their projected technical ratings next year. It did so through FOOTBALL AI, conceptualized and created by AIMBROAD, Inc.,
which analyzes football matches, including the EPL, and gives the technical ratings of football players in real-time. Fans can access FOOTBALL AI by downloading an app called MatchisOn.
As shown in Pic. 2, FOOTBALL AI predicted that Son's salary would increase by more than 23% compared to the previous year.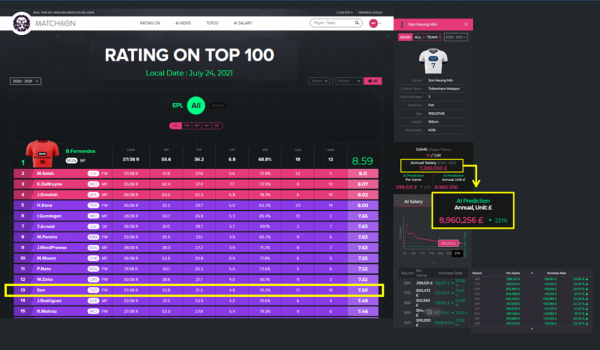 As of July 24, 2021, the technical rating and annual salary for Son that FOOTBALL AI finally predicted were £8.96 million, and Tottenham's exceptional contract terms were £10.4 million
(FOOTBALL AI expected the salary to increase by 23.1% compared to the previous one, but in reality, it increased by 41%).
Data analysis of this contract and Football AI prediction results are significant.
As shown in Figure-2, Son's AI technical rating was 13th among all 760 EPL players, and the average AI rating for the entire season from round 1 to round 38 was 7.50.
Based on the average AI rating (7.50), it evaluates the annual salary of the entire EPL players in real-time by calculating the past pay and performance achievement rating per game
and assessing the whole players' yearly salary, as shown in Figure 3. FOOTBALL AI rated Son very high, ranking fourth in the overall salary rankings.
FOOTBALL AI is a unique technology that analyzes and tracks the skills of teams and players in all football (including the EPL) matches in real-time.
It automatically evaluates each player's value based on the AI rating. AIMBROAD will soon release FOOTBALL AI in Korea, the UK, and the rest of Europe.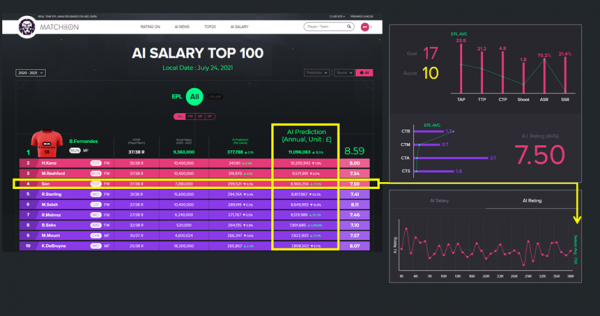 The FOOTBALL AI's ability to predict the players' salaries, as shown this time, had a 16% difference from the actual result because the influence of the fandom is different for each player.
"The impact of media news and SNS will be quantified in the future so that more sophisticated FOOTBALL AI will grow to be even more sophisticated as it learns from more quantified data," CEO Jang Su-jin said.
"Accuracy is essential," noted Jang, "but what we did with FOOTBALL AI is that we have opened the door to data such as salary prediction and player technical assessments for football fans.
And we did that by digitizing an automated platform so that football fans can consume digital content. It is a new digital way to enjoy football anytime, anywhere in the world."
He added, "Artificial intelligence has become a household name through AlphaGo of Go, and digitization is increasingly becoming indispensable to our daily life in the new normal.
FOOTBALL AI empowered by data and digitization will soon bring new digital opportunities for football fans to enjoy football globally."